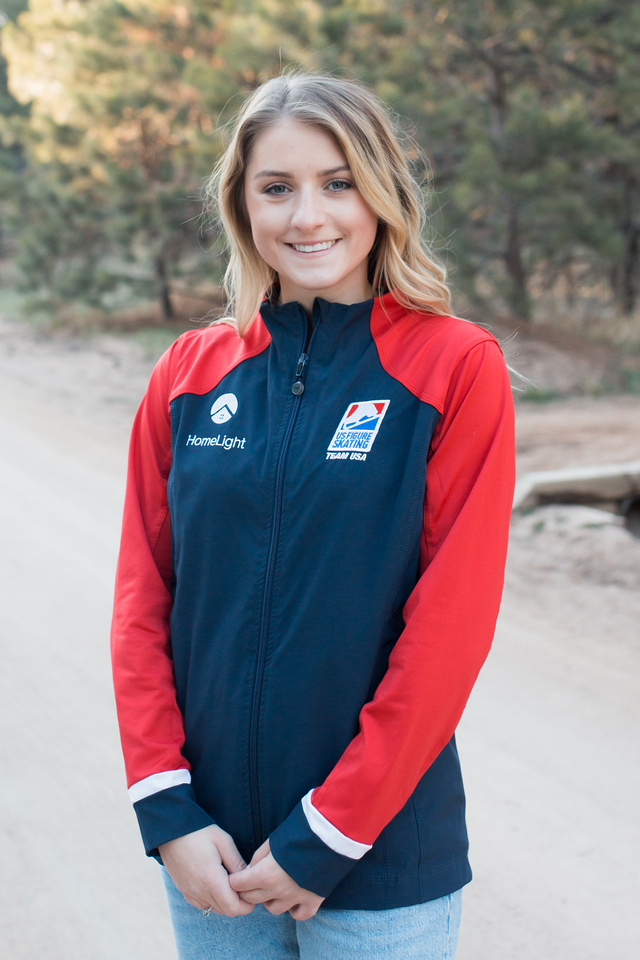 FAVORITES
Actors/Actresses: Matt Bomer, Emily VanCamp, Kerry Washington, Alex O'Loughlin
Movies: Creep, Rocky, God's Not Dead 2, Romeo & Juliet
TV Shows: Revenge, Scandal, Hawaii Five-O, White Collar, The Blacklist, The Bachelor
Magazine: People
Colors: Pink and teal
Foods: Chicago pizza, apples, peanut butter, sweet potatoes
Drink: Water
Quote: "What comes easy won't last. What lasts won't come easy."
MEET PAIGE
Birthday: November 17, 1999
Hometown: Plainfield, IL
Coaches: Tom Zakrajsek (primary); Becky Calvin, Eddie Shipstad (secondary)
Choreographer: Ilona Melnichenko
Costume Designer: Charlotte Vanatta of CharLana41 (short program dress) and Gail Johnson Illuminescent Design (free skate dress)
Training Center: World Arena Ice Hall, Colorado Springs, CO
Skating Club: Broadmoor SC
Previous Training Center: Darien Sportsplex, Darien, IL
Previous Coach: Mary Alice Antensteiner
Hobbies/Interests besides skating: Working out and going places with friends
Goals (off-ice only): Go to college and get a degree. I also want to be connected to the skating world doing shows or coaching.
When and how did you begin skating?: I began skating at the age of 3. I took ballet, jazz, hip hop and tap dance at a company near where I lived growing up and one of my friends that I took dance class with started Learn to Skate. My mom thought it would be fun to give it a try and I haven't looked back since!
What is your favorite thing about skating?: I like being able to travel and meet new people. Also being able to bring joy to spectators and fans when they watch me skate and having them reach out to me about the positive parts of it!
What is your least favorite thing about skating?: Training so hard and feeling confident in yourself and not being able to deliver that same confidence in a moment that counts. Skating is 80% mental and 20% physical.